The vast collection of Doralnic Grup log homes offers you ideas for building your dreams.
Whether your dream is a modern or traditional log house , or you prefer Scandinavian design, in our portfolio you will find models of log houses, from which you can inspire and at the same time choose the desired design.
All models can be tailored to suit the preferences and needs of each customer; customized log houses are our specialty. For results and 100% satisfied customers, log homes are made under the observation and guidance of founder Vaideanu Dorin .
Each log house is assembled by our team, ensuring it is delivered safely and in accordance with your budget. If you want a log house, do not wait.Leave your hand to the professionals of the Doralnic Group . We guarantee that the result will exceed all your expectations!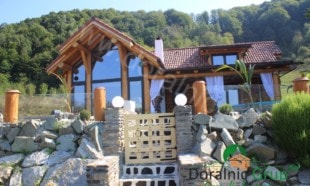 view
TOTAL BUILDING SURFACE = 80 mp GROUND FLOOR: LIVING ROOM KITCHEN LOBBY BEDROOM BATHROOM STAIRCASE TERRACE MANSARD: BEDROOM